Cain Velasquez vs. Francis Ngannou Analysis/Prediction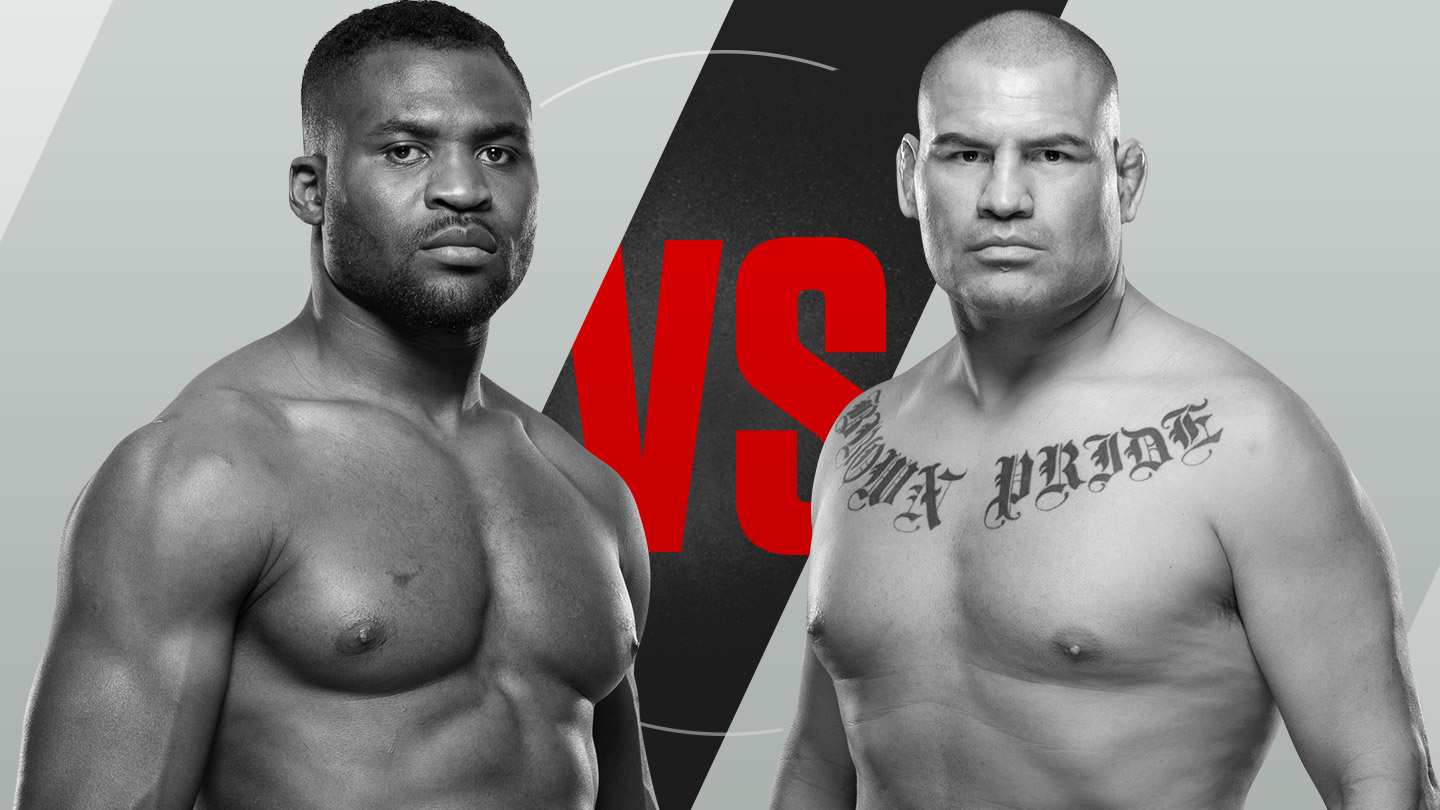 UFC on ESPN 1 will feature returning heavyweight king, Cain Velasquez vs. feared power striker, Francis Ngannou in its main event. As always, my breakdown and prediction will be determined by following my Fight Analysis Criteria. 
Cain and Francis do not have a mutual opponent. I watched two of each of their most recent fights on UFC Fight Pass.

Cain Velasquez vs. Fabricio Werdum (6/13/15 — Loss 3rd round guillotine)
Cain Velasquez vs. Travis Browne (7/9/16  — Win 1st round TKO)
Francis Ngannou vs. Stipe Miocic (1/20/18 — Loss Unanimous Decision)
Francis Ngannou vs. Curtis Blaydes (11/24/18 — Win 1st round TKO)

Both fighters are 1-1 in their last two outings but there is so much more to the stories of each fight.

 Cain Velasquez vs. Fabricio Werdum
This fight has a lot of behind the scenes elements. First, it had been almost two years since Cain's last fight, which is very damaging of a fighter's flow inside the cage. Second, they were fighting almost 7400 ft. above sea level in Mexico city. People tend to underestimate the impact of thinning and less available oxygen at elevation, until they've experienced it. Cain, unlike Werdum, did not have this prior experience and did not give himself enough time to acclimate. Anyone who knows Cain knows that coming into the second round tired is not his operating style. He was off. Now, to the fight: Cain's opened the round pushing forward and throwing varied strikes. Werdum was tighter and timed Cain with his punches. He landed with effect down the middle. Cain got him to the cage for clinch work and took him down but stood up to avoid his excellent ground game. This fight was paced similarly from the opening bell to the tap in round 3. Cain had more effective pressure, mixing up leg kicks with fast paced and high pressure combinations but Werdum landed the bigger punches, probably because Cain was moving into them. The second round maintained the theme. Cain was winning on pressure but Werdum was landing tighter calculated punches down the middle to some effect while Cain's pressure only wearing himself out. At the end of the second, Cain's wind failed him and he got dropped by a knee, arguably saved by the bell. In round three, Cain charged with pressure but Fabricio circled well. Cain shot a sloppy single leg take down and Werdum tried to bring him into his guard, Cain didn't bite and escaped the mess he created. Cain landed a nice head kick and tried to follow up the momentum but didn't have the energy, Fabricio used it to threaten with a standing guillotine and land effective strikes in the clinch forcing Cain to separate and shoot a sloppy double leg. Werdum went down, pulled guard and squeezed on a guillotine to finish the fight.
Cain Velasquez vs. Travis Browne
This fight was Cain Velasquez at his best. He kept it a high pressure fight mixing up his technique with: spinning head kicks, take downs, ground and pound, threats of submissions and high pressure combinations. Cain being Cain led to Cain being victorious. This was rather simple because he was nearly flawless and Travis Browne had no answer.
Francis Ngannou vs.  Curtis Blaydes
I'm not afraid of calling a fight a fluke. I recognize the speed and decision making skills that go into throwing a well timed punch but, I refuse to call it a relevant victory if it was avoidable with the correction of a single moment in time. That's what this was. Ngannou might be "back" but this was not the fight to prove that. He stuffed one of Blaydes take downs in the beginning of the first round. Both men circled and Francis Ngannou landed a big powerful overhand right that put Blaydes down but not out. A fully energized Ngannou followed up strong for the finish.
Francis Ngannou vs. Stipe Miocic
This was another fight that, despite being five rounds was very simple to analyze: Stipe is a better fighter and Francis has more power. Francis came out strong, full of energy and swinging wild looping hooks to kill. Stipe got cracked a few times but nothing landed totally clean. He survived the first onslaught and once the threat was manageable he began to time Francis. He landed the most significant strikes of the round with well placed counter 1-2's rolling back into the pocket from just out of reach of Ngannou's power punches. In response to one of Francis' power combos, Stipe waded back and shot a power double to get him on his back where he didn't know what to do. Stipe didn't do much on the ground and with full energy, Ngannou got back up after a sloppy guillotine attempt from Stipe. Francis swung wildly and Stipe countered hard and began to charged until he got clipped. Feeling Ngannou's devastating power he took Francis down against the cage to end the round. This was the biggest round of the match, especially for Francis, still he lost. The second round was a tired Francis' vs. a fresh Stipe. Stipe threw some feints to test Francis who reacted. Stipe landed a few punches and took it to the ground. The rest of the fight was more of the same, neither man is impressively conditioned but Stipe is superior in all elements except power. Stipe won an easy 50-44 Unanimous Decision. To summarize my thoughts on their last bouts: Cain fought at altitude against a man who fought perfectly. He didn't have enough energy to keep a Cainesque pace for five rounds and Werdum is and was just dangerous enough and just smart enough that a compromised Cain was just not enough. I doubt a rematch at sea level would be similar. Regarding Browne, what more can be said? Cain dominated as Cain does, he had energy every where he needed it. I would have liked to see it go for at least two rounds but I don't believe the result would have been much different. Regarding Francis Ngannou. His fight against Stipe was simply a champion vs. a one trick challenger. The champion won, as champions usually do. Francis had nothing. Now, his power is exceptional, superior even to other power punchers of the past. Regarding his fight with Curtis, he might be back, but this fight did not indicate that. This fight showed that Curtis Blaydes fell into the same trap that others have fallen into. He got TKOd by a very stronger puncher. Nothing more. All of the fighters above are perfectly in their primes and showed no signs of slowing down at the times of the fights and thus each fight can be taken at face value.

 Tale of the Tape:

Cain Velasquez is 6'1″, 244 lbs, has a 77 inch reach, and is 36 years old. Ngannou is 6'4″, 284 lbs, has an 83 inch reach, and is 32 years old.Francis Ngannou wins the tale of the tape. He's longer, taller, and younger.

Cain and Francis: Inside the Cage

I will never count out a flash knock out but, I've never seen a fighter that possessed such skill in making that happen that I would ever bet on them against a well rounded top level fighter. This fight is no different. Francis may come out a little more patient than usual but, he doesn't have what it takes to skillfully dismantle Cain Velasquez. Each man will give way to the others skill set: Cain will come out kicking legs and feinting in round one and Francis will not over commit. Cain will shoot and succeed at an early take down. Francis will use the cage to get up where he'll explode again to try to knock Cain out. Cain will back out and take the center of the ring using leg and body kicks. Given Ngannou's newly found patience Cain won't open up until after the mid-way point of the first round. He'll use distance striking to force his way into an inside battle. Ultimately he will transition to the fence for some varied distance striking. He'll throw a barrage of strikes at an overwhelmed Francis, ending the round with a power double putting Francis on his back.

Early in the second round, with the energy saved from a more patient first round, Francis will come out to kill, Cain will time an early take down and do immense damage on the ground where the fight will stay for most of the round. One more time Francis will explode up and they'll end the round dirty boxing against the fence.                                                                                                                                                                                                                                                                                                                                                                      Round three will be more of the same but this time, Francis will not survive. There is nothing to me that indicates Francis will win in any fashion aside from a flash KO. We'll have some questions answered tonight on determining if Cain's lengthy absence will impact him negatively but, I think not. He and Cormier are similarly styled and I think Cain is better. His style is the last to go, he doesn't rely on power, speed or timing. He relies on brutal implementation of a tried and true skill set. He's a grinder going against the polar opposite. Cain returns to dominant form.

X-Factors

This fight is not one with a great reliance on X-Factors. It's hard to call Cain's grinding style an X-Factor because it's consistent and everyone knows what he's going to do, they just can't stop it. Francis' X-Factor is his one punch knockout power and that is always a factor, it's just not a factor worth relying on throughout a career. Other X-Factors include Cain's time out and Francis' adjustments. I can't imagine either being enough of a concern to change my opinion.
Official Prediction: Cain Velasquez wins by 3rd round TKO.